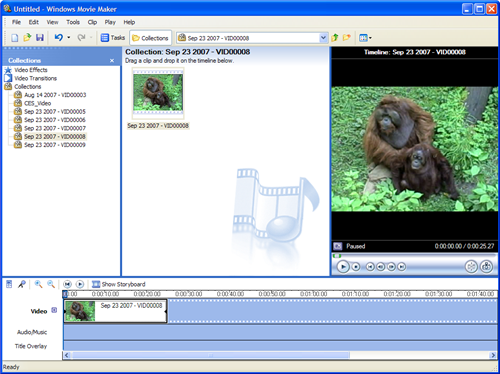 One of the most accessible video editing tools is
Windows Movie Maker
and it's cousin,
Windows Live Movie Maker
. Mostly because they are free to download on Windows computers (if you have a Mac, you've got access to
iMovie
, so ten percent of you are in luck).
WMM (as it's called for short), is a good, if simple, video editing platform. You can do the basics of cropping a video down to size, transitioning between two video clips with a crossfade and putting a musical track over top of the whole thing. So, for most people, it has the chops to take your various video clips and make something usable. You can crop out just the section you need for PowerPoint presentation and fade the clip in and out smoothly - all in just a few minutes.
Windows Live Movie Maker is good (WLMM) for short, but it's a different program. It has some added features, and some that were taken away. With WLMM, you can upload your completed project directly to
YouTube
or
Facebook
. However WMM has the ability to create plugins that offer new features and an
active community of users
developing plugins.
What are the main video editing tasks that you have? What works best for you?